Tracking Goals in Google Analytics
Tagged with: Analytics
When it comes to setting goals, business goals are different from goals in Google Analytics, but both are similar in tracking your Key Performance Indicators (KPIs). In Google Analytics, goals can be created for virtually any action you want a user to take on your website. Completing goals in Google Analytics will count as conversions, allowing for better insights into your campaign performance in terms of clickthrough rates, conversion rates, cost per conversion, and, ultimately, your ROI.
Each view in Google Analytics has a maximum of 20 goals, so you must plan which website goals are most important before you begin. Since each business has unique needs for tracking performance, we will set up one of the most widely used goals.
Once logged into Google Analytics, go into the 'Admin' section, then under 'Views' click on 'Goals.'
Revenue: Reservations or Buy Tickets
Acquisition: Created an Account
Inquiry: Read Reviews
Engagement: Add to Favorites, Media Play, Share/Social Connect, and Contribute Content
There is another option for Smart Goals, but it is best for businesses looking to improve their Google Ads performance, so we will dive into this setup later.
Most goals we create fall under the Custom goal category. Generally, templates and Smart Goals are too simple compared to the metrics most SMBs want to track as their main KPIs. This example will outline setting up a goal to track the thank you page for a custom form on your website.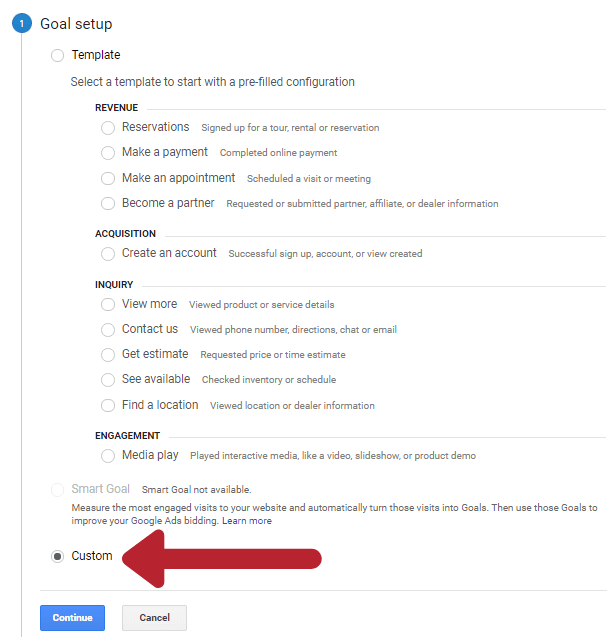 When you select the Custom goal setup, the next step is to fill out the goal description fields. This includes the name of the goal and the type (Destination, Duration, Pages/Screens Per Session, Event, or Smart Goal). The goal name would be "Contact Us Thank You," and the Destination type in our example.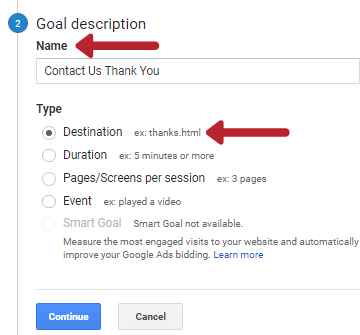 In the next section, you fill out the goal details. The destination for your goal should use the 'equals to' match type from the drop-down menu and then use the thank you page URL. Using a thank you page instead of the same page the form is located on reduces incomplete conversions. If users only need to click submit, they can leave the page before the form is submitted. However, if a thank you page is the destination, the conversion will only count if the user submits the form and waits for the confirmation page to fully load, giving you more precise conversion metrics.
For example, this could be 'equals to' /contact-us-form-thank-you.aspx. The other options available in this section of the setup allow you to ensure the URL is case-sensitive, assign a monetary value to the conversion, and specify a path in the conversion funnel if this applies to your needs.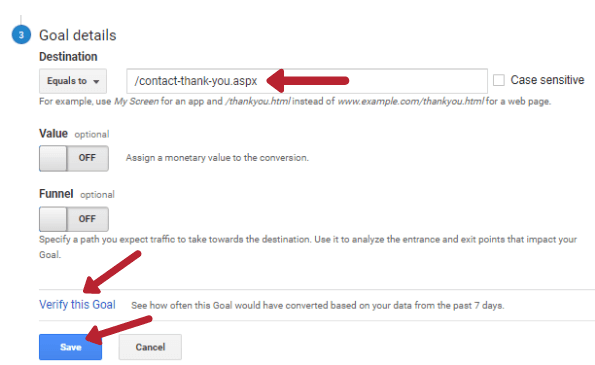 Once you have your goal created, click 'Save.' Next, return to your goal setup and click 'Verify this Goal' to see how many conversions you would have based on the last 7 days of data. An easy way to ensure your goal is tracking correctly is to view your current site users inside Google Analytics and submit a test form. Your goal should be tracked as a goal completion with the correct timestamp and user information as your test submission, and then you are good to go!
Although this example shows just one kind of custom goal set up in Google Analytics, the options are endless for tracking your website engagement and conversions. Not only will these conversions help you make informed business decisions about your website, but they can also provide valuable insight into your performance (both organic and paid campaigns. Custom campaign parameters are vital to gaining conversion insights, which we will explain further in another guide on campaign best practices.
If you are interested in learning more about configuring and tracking goals in Google Analytics or want to have our experts review your current setup, reach out to our digital marketing team for an Analytics assessment. We would be happy to discuss your goals and challenges and create a roadmap to grow your business through your website. If you'd like to walk through our goal setup step-by-step, check out our how-to video guide here!